Clean, Sanitize, and Protect Your Business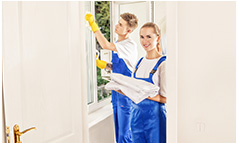 When you own your own business, there are many things to worry about. The last thing on that list could be how clean your office space is.
But keeping your place of business clean should be among your highest priorities. That's because a neat, clean, and secure workplace can actually make your business more productive, more efficient, and more profitable.
Janitorial Services in NH — The High Cost of Not Hiring Professional Cleaners
Consider for a moment the consequences of not hiring a professional cleaning company such as All Bright Janitorial Services to clean and maintain your business space.
Regardless of how large or small your operation is, sooner or later it is going to start to get dirty. As garbage, dust, and debris build up, your workplace can quickly become hazardous, even toxic.
In addition to the environmental dangers, a messy, disorganized workspace is going to be a less efficient workspace. You can't expect your workers to think outside the box when you provide an atmosphere that discourages creativity.
Janitorial Services in NH — Outsourcing Your Cleaning Services
The benefits of hiring a company like All Bright Janitorial Services to keep your office neat, clean, and professional are immediate.
Your staff will see improvements in their workspace starting from the very first day. Our skilled, professional cleaners will provide your employees with an orderly workspace that promotes creating thinking, teamwork, and professionalism.
When your office is kept clean and sanitary, your workers will be less likely to get sick, resulting in less downtime and improved productivity.
Janitorial Services in NH — It's Good for Business
Smart business owners understand the advantages of outsourcing their cleaning to a professional business cleaning service like All Bright Janitorial Services. It's simply good business to make decisions that boost the bottom line.
New Hampshire business owners have a clear choice when choosing a reputable, highly effective office cleaning company: All Bright Janitorial Services.