What to Look for in an Office Cleaning Service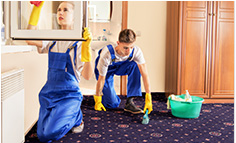 A clean office is an efficient office. Maintaining the highest custodial standards at your business will not only provide a neat and orderly work environment but can also improve the productivity of your employees.
So choosing a cleaning service for your office space can have implications that go beyond simply getting people to empty trash cans and run the vacuum.
Cleaning Services Boston —  Reliability
The number one consideration for choosing a cleaning service is reliability. Even if a custodial company does the best job in the world cleaning your office space, if they don't show up on time or fail to show up altogether, it's going to cause more problems than solutions.
Cleaning services in Boston should show up when they are scheduled on time, every time. Chasing down a cleaning service shouldn't be part of the office manager's job description.
When excuses are offered rather than results, it's probably time to find a new cleaning service in Boston.
Cleaning Services Boston — Quality of Cleaning
A second but equally important consideration when choosing a cleaning service in Boston is the quality of the cleaning.
Before you hire a cleaning service, it's important that you create measurable standards. These can include things like emptying every garbage can every night, daily bathroom cleaning and maintenance, and vacuuming hallways and offices.
When you create standards such as these, the theoretical can be matched up against the actual. And when the cleaning service fails to achieve these standards consistently, corrections can be made.
Cleaning Services Boston — All Bright Janitorial Services
At All Bright Janitorial Services, we pride ourselves on both our reliability and the quality of our cleaning.
We understand that the efficiency and productivity of your business can depend on the cleanliness of your work environment. We also know that the more time you spend dealing with your cleaning service, the less attention you can pay to more important matters, such as running your business.