Top Signs You Need to Fire Your Office Cleaning Service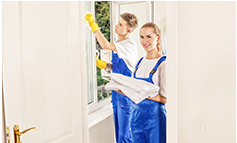 There are a lot of cleaning services in the Boston area. Some do an exceptional job while others do not.
The problem with supervising the work of an office cleaning service is that they usually do their jobs when nobody else is all around. Cleaning services typically come in during the overnight shift when the office or business is empty so that they are less disruptive to the operation.
But it is still possible to tell when they aren't doing the job you are paying them to do. Here are five signs to watch out for.
Cleaning Services Boston — Full  Trash Cans
One task cleaning services need to complete every night is to empty all the trash cans in your office. If the trash cans still contain garbage when you arrive in the morning, the cleaning crew failed to perform this basic task.
Cleaning Services Boston — Carpets Not Vacuumed
Telling if the carpets have been vacuumed or not is not always easy to see. Try this test: Before you leave for the night, sprinkle a little baby powder or other powder in an out of the way corner of the main hallway. If it's still there in the morning, they didn't vacuum.
Cleaning Services Boston — Unauthorized Entry
It's important that you trust your cleaning service. If there is evidence they have been going into desks, locked closets, or other unauthorized areas, it's probably time to change services.
If you have noticed these or other signs that your current cleaning service is doing a bad job, it's time to call All Bright Janitorial Services. We have the proven track record of being the most reliable, trusted, and hardworking office cleaning service in the Boston and New England area.
Just because cleaning services aren't directly supervised doesn't mean they should do a bad job. Get rid of your bad cleaning service and let All Bright Janitorial Services do the job right!