All Bright Janitorial Services Protects Against the Elements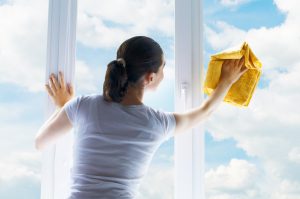 Living in New England has its advantages, but it also has its drawbacks.
When the trees in New England change color in the autumn, the spectacle is so colorfully dramatic that it attracts visitors from all over the world. But lifelong New Englanders know that fall is just the precursor to winter. And that winters in the Northeast can be harsh, long, and messy.
Cleaning Services Contractor NH — Winter Blues
When the weather outside turns wintry, dirt, snow, and salt can be tracked into your business. Winter in New England is one of the hardest times to keep your workplace clean.
That's why so many businesses rely on cleaning services in NH to clean, maintain, and protect their workplaces against the region's harsh winter weather.
Cleaning Services Contractor NH — Spring and Summer Pollen
While New England's trees are famous for the colorful foliage, they also produce a lot of pollen, seed clusters, and dust. In the late spring and early summer, things like milkweed and dust pollen from trees can leave a layer of dirt over practically every surface indoors and out.
There is also industrial pollution to worry about. New England has one of the heaviest concentrations of factories and other pollution-producing facilities anywhere in the US. So it's common to discover desks, carpets, and other workplace surfaces consistently covered in a thin layer of dust all year round.
Cleaning Services Contractor NH — All Bright Janitorial Service
Whatever the weather is like outside, All Bright Janitorial Service can ensure that the inside of your business is always clean, neat, and safe.
Our staff of reliable, professional commercial cleaners will remove surface dirt, dust, pollen, and other seasonal debris from every surface of your workspace, from floors to desks to lighting fixtures and more.
Now you never have to worry about how the weather outside will affect the cleanliness of your business because All Bright Janitorial Service has you covered.