All Bright Strives to Be Like Boston's Best Champions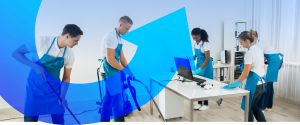 Boston is unique among American cities. In addition to being the site of some of the most important events in our nation's history, we also have a proud sports history.
Boston has a lot to be proud of. From the Red Sox's World three World Series championships since 2000, the Celtics' 2008 NBA Championship and the dynasty of the 1980s, as well as the five Super Bowl championships for the New England Patiots since 2000, our city has had a lot to cheer about.
Janitorial Services Boston — We are the Champions
Boston has high expectations for its sports teams. Winning all the time will do that to a community.
At All Bright Janitorial Services, we hold ourselves to a higher standard as well. We want to be the champion cleaning service that Boston businesses choose first. That's why we work harder, stay longer, and commit ourselves to the same kind of winning spirit that has kept our city's sports teams Number One.
Janitorial Services Boston — Expect the Best
We also understand that being on top means being better than everybody else. The six-time Stanely Cup winning Boston Bruins know this. And so do the hardworking people at All Bright Janitorial Service.
Like our most beloved sports heroes, we have the kind of determination, integrity, and can-do spirit that wins championships. And while there may be no trophy for us to hoist at the end of a winning season, make no mistake: All Bright plays to win.
Janitorial Services Boston — A Winning Attitude
We want to win the loyalty, respect, and appreciation of our clients. And like our proud city's other championship teams, we strive to prove it every day.
At All Bright, we know what it means to live and die with our local heroes. That's one of the reasons why we bring that same passion to our jobs every day.