The Importance of Sanitation during Cold and Flu Season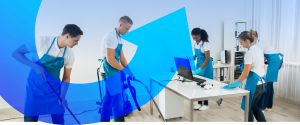 Keeping your business clean is important all year round. But it's especially important to your health and the health of your employees during the cold and flu season.
People working in offices, retail operations, warehouses, and other business are more likely to contract the cold or flu virus than most people. Working in close proximity to other people and being exposed to outsiders who may already be sick can cause the likelihood of your employees contracting an illness to skyrocket during the winter months.
Commercial Cleaning Services Boston — Cleaning and Sanitizing Your Business
One of the most effective ways to controlling the spread of the cold and flu virus in the workplace is to continually clean and sanitize surfaces like desktops, countertops, floors, and any other place people might touch with their hands.
When people are infected with the cold and flu virus, they can be highly contagious. So if they touch surfaces in your workspace and then somebody else touches that same surface, the virus can be spread.
Sanitizing surfaces frequently with an anti-bacterial cleaner can kill the virus before it can be spread. This can significantly reduce the chances of a flu outbreak in your workplace.
Commercial Cleaning Services Boston — All Bright Janitorial Services
The professional commercial cleaners at All Bright Janitorial Services are experienced at sanitizing work surfaces to kill and control the cold and flu virus. We have cleaned in a wide variety of businesses, including medical and healthcare facilities, so we are knowledgeable about maintaining the safest work environment for your company.
During the cold and flu season, maintaining the highest levels of sanitation is critical. An outbreak of cold and flu at your business can affect productivity and profits, not to mention the health and safety of you and your employees.
Don't take chances. Let the professional, experienced cleaners from All Bright Janitorial Services clean and sanitize your business.