What to Look for in a Commercial Cleaning Vendor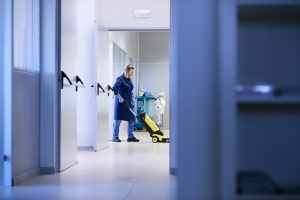 Whether you are replacing your existing commercial cleaner or hiring a vendor for a new property, it's critical to make the best choice. The success of your business may not depend on your overnight cleaning service, but it certainly will be affected by it if you make the wrong decision.
When hiring a commercial cleaning service, you should look for three things: Responsibility, reliability, and professionalism. While price is also a consideration, if the company you hire fails on one or more of these three elements, any savings you realize is going to be money down the drain.
Cleaning Services Boston – Bigger Isn't Always Better
There are major, multinational corporations that provide commercial cleaning services. But biggest isn't always the best, especially if they aren't serving your specific needs or if you are only a tiny client among their enormous global customer base. With the mega-corporations, good luck getting the personalized service and quick response you need when you have a problem.
Similarly, a small one- or two-person cleaning company also may not be the best solution. They may be responsive and reliable, but if they lack the experience and professionalism you need, they could create more problems than solutions.
Cleaning Services Boston – The Winning Combination
What your business needs is a mid-sized company that has an established local client base that raves about the quality of the service they receive from their commercial cleaners.
All Bright Janitorial is that company We have the experience and professionalism you expect from your commercial cleaning vendors. We also have a proven track record of reliability that is among the best in the industry. Just ask any of our satisfied clients and they will tell you: When it comes to commercial cleaning services in the New England region, All Bright Janitorial has the solutions you need.
If you are looking for a commercial cleaning service with integrity, professionalism, and proven track record of success, look no further than All Bright Janitorial Services, the company New England businesses can rely on.