Growing Businesses Need to Rely on Outside Help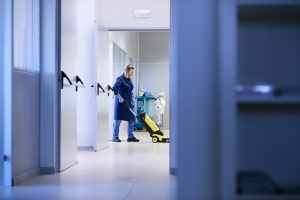 Most small businesses follow a predictable path to success. They often start out as a great idea that develops into a "mom and pop" operation with perhaps just a handful of employees.
But as the business becomes more and more successful it begins to grow — both physically and financially. At a certain point, the business's owners have to start making decisions about how to facilitate further growth. And that can include hiring an outside commercial cleaning company.
Cleaning Services Boston — The Path to Success
When your business was small, it probably made sense to handle the cleaning yourself. After all, you may have been the only employee. Or perhaps you were running your business out of your home or garage.
But when your business took off and you needed more space, you may have moved to a storefront or rented office space. For a while, self-cleaning may have continued to be practical. But at a certain point in your growth, the time arrived for you to look for outside help with tasks that were non-essential to your direct business goals.
And that's a good thing. When you don't have time to clean your office anymore because you are too busy running your own successful business, it means you are winning.
Cleaning Services Boston — Reliable and Professional
If it's time to turn the cleaning of your business over to somebody else, consider All Bright Janitorial Services. We've helped many small New England businesses make the leap from a one-person operation to a thriving, successful business. Our team of professional, experienced commercial cleaners can take over the tasks of keeping your business neat and clean so you can focus on more important things.
When you are growing your business, you need to focus on the future. Leave the cleaning to the professionals at All Bright Janitorial Services. We've got you covered!