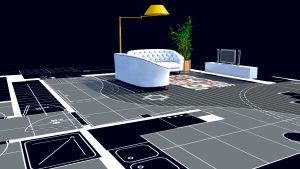 Modern office design often features large open floor plans, oversized windows or skylights to let in abundant sunshine, and the elimination of cubicles, doors, and even most walls. While this futuristic look may improve communication and productivity, it also instantly exposes any kind of messy or disorderly workspace.
Despite its drawbacks, old-school office design allowed for businesses to hide disorder and disorganization behind closed doors. But the trend toward transparency lays out all of a business's flaws for anybody to see the moment they walk through the front door.
Cleaning Services Boston — Modern Business
The layout of today's up and coming businesses are open and transparent. So the businesses that work in these spaces need to respond by upping the ante on their cleaning services.
Clients, customers, vendors, and even your own employees form impressions the moment they walk into your business. So if you drop the ball by allowing messes and disorganization to be in plain sight thanks to an open floor plan, it's going to harm your business's reputation.
Progressive, fast-growing businesses need to be able to adapt. And the best way to adapt to a changing officescape is to increase the attention that is paid to cleaning and janitorial services.
Cleaning Services Boston — Best Foot Forward
All Bright Janitorial Services has experience cleaning contemporary office spaces. Our trained and knowledgeable cleaners understand that looks matter. So they strive to keep your office sparkling clean and shiny so it can make the best possible impression on your business's visitors.
Modern office design isn't going away. It's here to stay. And it soon will be adopted by practically every type of business. For all of your cleaning and janitorial needs, choose the professional cleaners who are accustomed to making modern office spaces look their best. Call All Bright Janitorial Services to learn more.